It's getting colder, the "big coats" are on show again and the evenings are drawing in. Worries about Winter ailments are hanging over many heads and for some people the shift from Autumn into Winter brings a kind of creeping sadness. In this week's blog I'm joining forces with Sarah Bell [The Woman Next Door] to suggest to you that Winter need not be such a challenge.  The trick is to find ways to feel good and stay happy in your environment because when you feel positive your immune system will be stronger and you will be much better able to fight off infections and illness.
For those of you who suffer from SAD or who see the Winter as a challenge to your immune system, I would encourage you to keep your hearts open to the idea that the Winter has its own sources of warmth and light. Sarah will offer lots of tips on how to make your home glow this season and I would suggest that you stay alive to the beauty of Winter sunsets and remember that a howling wind is a reminder of the energy and vitality of the world all around you.  Strengthen your heart with all of these things and you will be well on your way to beating the blues and boosting your immune system.
It's important also to find time to get outside for exercise and fresh air.  We literally need to breath in life as deeply as possible – retreating from the world outside tells our brain that we are having trouble engaging with our environment or are maybe just that little bit defeated. Our body reacts to this retreat, tries to repair and mend and then when it finds its efforts are not restorative it goes into a kind of holding pattern – sluggish, low,  waiting for signs that vitality can be restored.  If we can get outside, breath in the fresh air then we are signalling to ourselves and our body that we are strong enough to get on with it, to push on through and our body and mind will respond in kind – yes it's cold but we will put checks in place and get on with it….
Holistic therapists such as myself are extremely mindful of the idea that prevention is better than a cure.  At this time of year Reflexology can be a powerful tool for boosting your immunity, restoring your inner vitality and making sure all of your body systems are tip top.  The other thing Reflexology is wonderful for is making you feel as though you are in a warm and safe place and when you feel good, endorphins are released and hey presto – inner sunlight.
If you are already under the weather and want to break the cycle [and this applies to any age group] then I will work with you to alleviate seasonal ailments.  Please do comment if you would like me to post further information about specific conditions such as chesty colds, sinus congestion, bronchitis, SAD.  I am also happy for you to message me for a chat about how Reflexology could help you this Winter.
And now, for some inspired ideas on how to nourish yourself and make your home a haven this Winter, I am going to hand the rest of this weeks blog over to my friend, Sarah Bell

Hygge (pronounced hue-guh) is a Danish and Norwegian word that cannot be translated into English with one word alone. It describes something that is cosy, comforting or special and that is about finding joy in simple acts and embracing the chillier, darker months both inside and out. Being present and mindful are key to encapsulating the spirit of what hygge truly means. With a good number of dark and cold days ahead how can we make some small adjustments to help us thrive on the season rather than fear it? Here are some suggestions for bringing Hygge into your home, body and mind.
Make warming food & drink
What could be nicer than a hot, wholesome bowl or mug of something homemade, shared with friends? How often do we just throw our dinner into us without savouring the flavours? Making and eating something tasty, seasonal and nutritious slowly and mindfully is good for the digestion and for the spirit. See below for a couple of Winter warmer recipes.
Wrap-up warm & go out anyway
It can be easy to avoid going out when it's wet and wild outside but when the damp, chilly weather sets-in, what does that mean for us getting a daily dose of fresh air? Wrapping-up properly in cosy knitwear and waterproofs and going out whatever the weather is a brilliant pick-me-up. A beach or forest walk allows us to marvel at nature whilst exercising and shut-off from the stresses of technology and the dryness of central heating.
Bring the outside inside
Beaches and forests are wonderful places for treasure hunting and what better way to embrace the season than to bring beautiful items home and display them as home decorations? Driftwood, pine cones, fir branches and holly are great examples of ways to brighten the home in Winter plus searching for them with the family is a lovely way to spend an afternoon.
Cosy-up your living space
It goes without saying that faux fur rugs, knitted blankets and scatter cushions in luxurious fabrics and warm tones will make for a cosy space in which to relax or entertain. As much as it's great to be out in the blustery weather, it's equally great to get back inside in the warm and comfort of your home. Why not learn to knit or crochet too and make your very own nest?
Make the most of light
As Jenny mentions above, a lack of light can be really problematic at this time of year. Letting as much natural light into the home as possible is therefore a good thing as well as getting out and about in the air. Get the curtains open and perhaps even the windows when the sun is shining and soak up every drop of light you can. In addition, use candles, fairy lights, lamps and of course the fire to bring light and warmth into the home later in the day.
Use essential oils around the home
Scents can have a huge impact on our minds and well-being and there are so many that really celebrate the season and/or can support us at this time of year. Using richly-scented oils in a diffuser or burner such as cinnamon, ginger, orange and frankincense bring a wonderfully festive smell to the home but why not use them in a relaxing bath or foot soak too? Eucalyptus, tea tree, peppermint and citrus oils can also give our immune systems a boost, clean the air and comfort us when suffering from the common ailments of the season.
Balance Winter retreating & festive socialising
December is a funny month as naturally our bodies want to retreat and slow down at the same time that all the parties start filling the diary. It is easy to take our eyes off the ball when it comes to self care, both in nutrition and in physical rest. Now I love a good party but it's just not practical to do them all. I don't want to end up dragging myself into Christmas, having given the best of myself to too many other things on the run-up. Hand in hand with this is nutrition. No doubt we'll eat more pork, pastry and sugar (frankly it's not Christmas in my book if we don't) but making sure we're still getting the greens, the water, the fruit, the protein and good fats in our daily diet will keep us nourished and properly fuelled for what the rest of Winter has in store.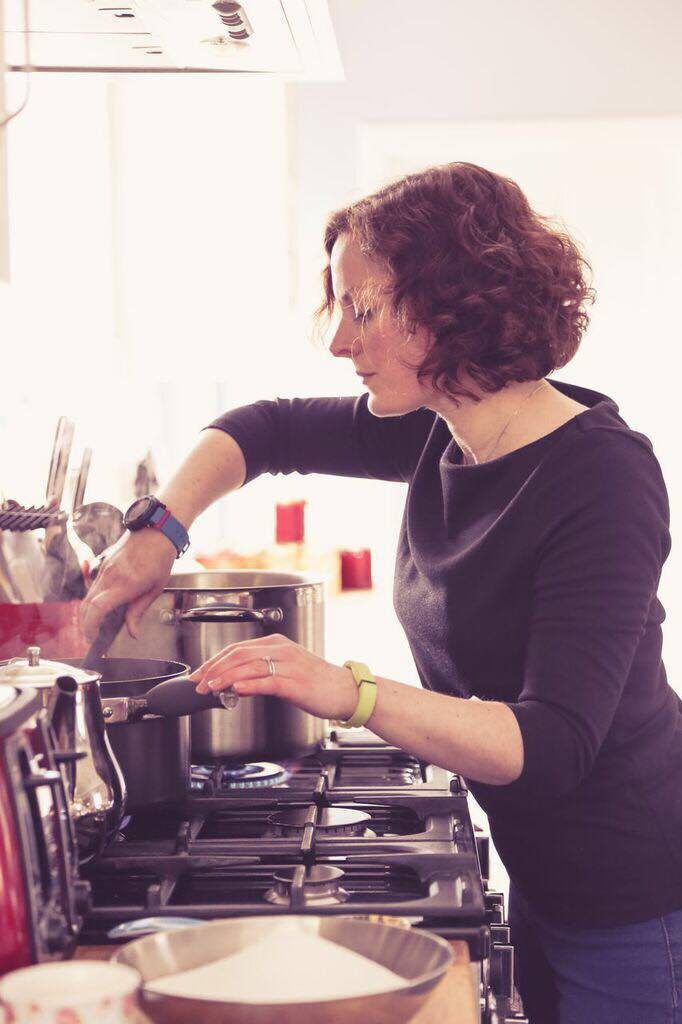 Winter warmer recipes
Hot chocolate for 2
Pour 2 mugs of your milk of choice into a pan and begin to heat gently on the hob. As the milk warms grate in your choice of chocolate and stir to taste. Whether you like yours really chocolatey or more milky with just a hint of the brown stuff, it's amazing the wonderful flavours you can create. Terry's chocolate orange and the ever-reliable Cadbury's Dairy Milk are hard to beat.
Roasted squash & root vegetable soup
Roast your choice of veges in the oven with some oil and herbs until soft. I use butternut squash, sweet potato and parsnip. Once soft add them to a pan with some chopped onion softened in butter. Add some stock and some Parmesan and allow to simmer for a few minutes. Use a stick blender to make the soup a smooth consistency then add some cream and black pepper to finish. Serve with crusty bread for dipping.
If you're keen to find out more about Hygge and how you can bring it into your life, Sarah (The Woman Next Door) has a practical half-day workshop running on Saturday 3rd February 2018 (£45 pp) at The Loft, Ballycastle. Message her through Facebook for details.
Sarah and I in our 'big coats.'